Men have a distinct calling on their lives.
That mandate is to reflect the character of God as you provide and protect both spiritually and physically for those God has entrusted to your care. Whether in the home, workplace, or church, God calls you as a man to provide leadership that points people to find their satisfaction fully in Christ.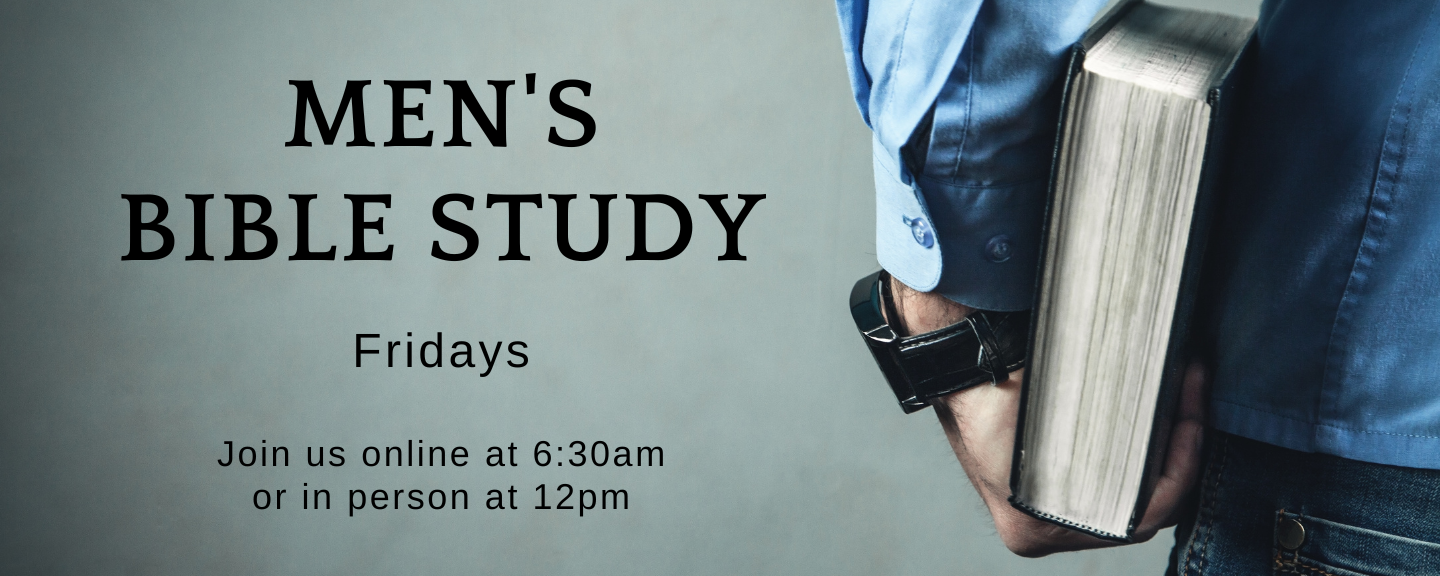 Our greatest need as men is not strength, intellect, nor worldly status; it's understanding and knowing God (Jeremiah 9:23-24). In light of this, we gather together every Friday for a time of prayer, mutual encouragement, and meditation on God's Word. We are currently walking through the book of Ecclesiastes, which takes an unflinchingly honest look at the hardships of life in our fallen world, yet leads us to the path of hope: fearing God and keeping His commandments. Our study is drawing from Philip Ryken's commentary, Ecclesiastes: Why Everything Matters. Purchasing the book is recommended, but not required, though we would encourage you to purchase a scripture journal to use over the course of the study (available as an option on the registration forms).
Both an online and in person option are available:
The online session meets over Zoom at 6:30am. If you plan to attend, please click here to register and you will be sent the Zoom link.
The in person session meets at the church in the Commons at noon. Please click here to register.

After Peter wrote about the great love and mercy God bestowed upon His people through Jesus Christ in the power of the Spirit, which He displayed by not only calling us out of sin's darkness and into His marvelous light, but also by making us His treasured possession, the apostle wrote in 1 Peter 2:11: Beloved, I urge you as sojourners and exiles to abstain from the passions of the flesh, which wage war against your soul.'
In the fight of faith, God gives us brothers and sisters in Christ to help us live out our faith in exile in this world. One means toward that end is our men's and women's gathering on the third Wednesday of every month from September to May. We pray this will be a biblically-rooted and relationally-rich time God will use to grow us as a community who sojourns together as we follow Jesus daily.
Though you may reached adulthood according to the world's standards, are you growing to spiritual maturity? Throughout the New Testament, we find a consistent emphasis upon the necessity of pursuing maturing for those who have been united by faith to Jesus. Paul in particular said the aim of his ministry was to "present everyone mature in Christ" (Colossians 1:28) and stressed the importance of growing to "mature manhood, to the measure of the stature of the fullness of Christ, so that we may no longer be children, tossed to and fro by the waves and carried about by every wind of doctrine, by human cunning, by craftiness in deceitful schemes." (Ephesians 4:13b-14) Join us as we seek to pursue maturity together and see how walking this path is the only way to follow Jesus into stable, servant-hearted, healthy, fruit-bearing, useful, and consistent lives lived for the glory of God. We will be using Sinclair Ferguson's book Maturity: Growing Up and Going On in the Christian Life to guide our discussion.
Sojourners for men meets in Room E.
Email men@5pointscc.org for more information and see the calendar for the next gathering.