We want to see our mission sustained and expanded.
That mission is to glorify God in all that we do through the Spirit by finding our joy so supremely in Christ that it overflows in a desire to draw our neighbors and the nations into the worship of God with us now and forever.
We are moving forward in bold faith to advance this mission through the construction of additional facilities and a capital campaign to fund it. But our goal is not merely to update and expand our physical footprint. No, these buildings serve to point us beyond the walls to our great God who is our dwelling place. Ultimately, we yearn for people to know him better and for more people to know him as their greatest delight.
As you read more about this vision below, pray and seek the Lord as to how you may partner with us for the joy of our neighbors and the nations. You'll also find below a form to confidentially submit a pledge to give towards this campaign as well as the opportunity to begin giving (either one-time or recurring).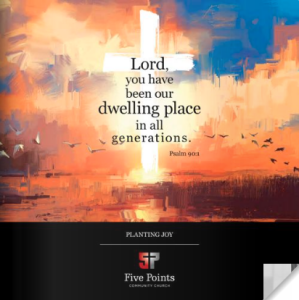 Planting Joy Capital Campaign 2017-19
Thank you for prayerfully considering partnering with us in our 24-month capital campaign to raise $3,700,000 to finish funding Phase 1 construction (beginning in May 2017) and fully fund Phase 2 (with a goal of construction beginning May 2018). Submit this confidential form to notify us of your pledge. A print version is available upon request.
Listen to the campaign launch presentation by Mike Martoia & Tony Antone with accompanying slides from April 23, 2017, and Pastor JJ's sermon that morning on Psalm 90.