Discipleship is the life-long pursuit of every follower of Jesus to look more and more like him and helping others to do the same.
We often think of the famous "Great Commission" passage in Matthew 28:18-20 when it comes to discipleship, but we could actually go back to the very beginning of the Bible, because there we discover that discipleship has been God's intent all along. For instance, Genesis 1:26 says, "Then God said, 'Let us make man in our image, after our likeness.'" Here we learn that it's been God's intent from the very beginning to create people who would look like him—reflecting his image and likeness.
But as God's story continued to unfold, it became very clear, very quickly that there would need to be another man to do what the first, Adam, had failed to do. Jesus was sent to be that man, who would not only perfectly reflect the image and likeness of God, but who would also reinstitute God's original intent by calling all who would follow him into this life-long pursuit.
Jesus issued this call when he said, "All authority in heaven and on earth has been given to me. Go therefore and make disciples of all nations, baptizing them in the name of the Father and of the Son and of the Holy Spirit, teaching them to observe all that I have commanded you."
Christian disciples are those who are baptized into the name of God and taught to pattern their lives after that of their teacher. More than simply knowing right doctrine or believing the right things, true discipleship is learning to reflect Jesus's image and likeness by shaping every area of life according to all that he has commanded.
Based on this, our vision for discipleship here at Five Points is to see every follower of Jesus growing increasingly like him and helping others to do the same.
We seek to carry out this vision by moving together along a pathway that includes these core areas: Worship, Learning, Community, and Prayer.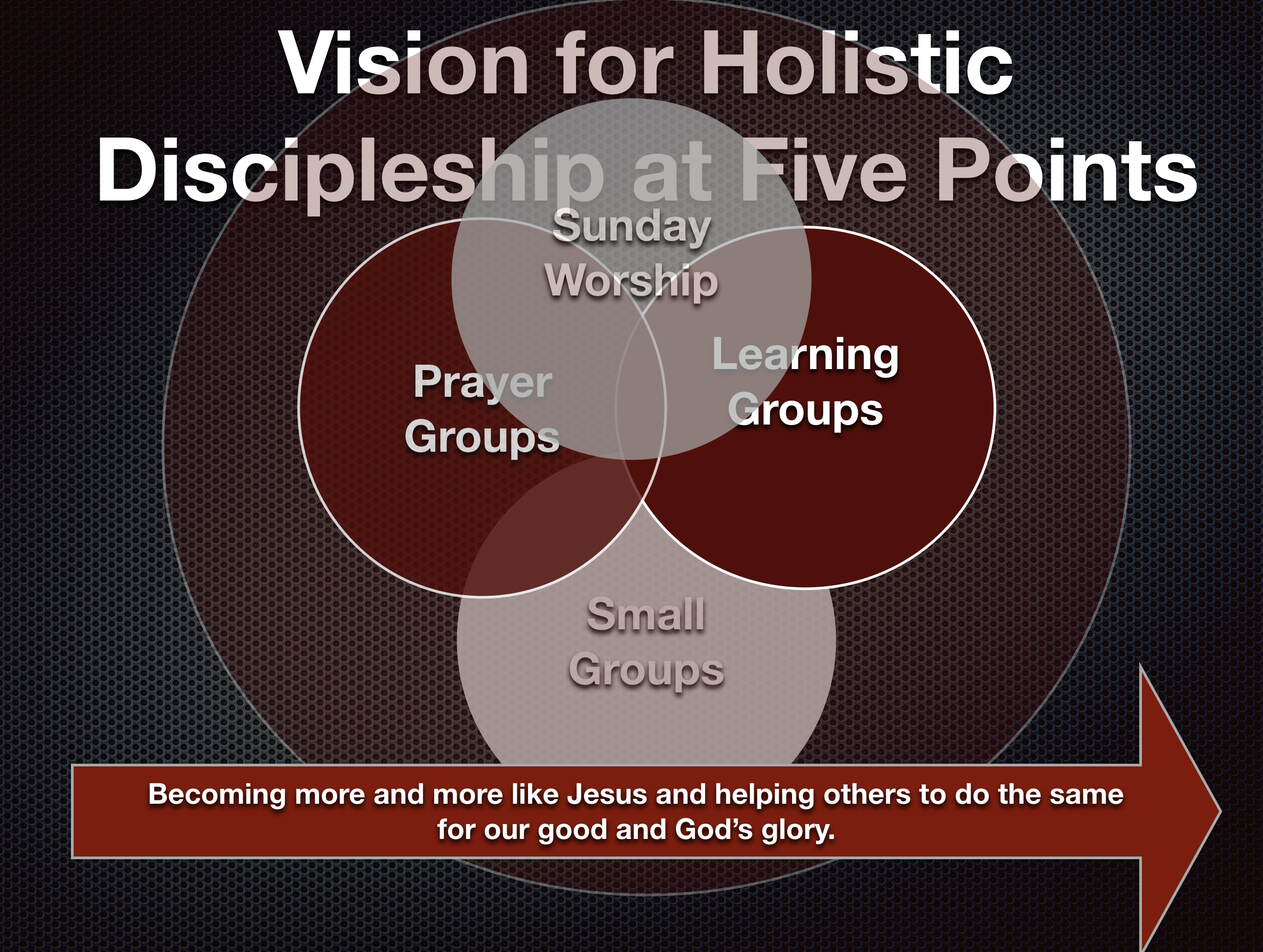 THE PATHWAY OF DISCIPLESHIP
Worship: Make joining together with the people of God in the presence of God a weekly priority - Sunday worship at 10:45am
Learning: Come together for a time to grow in our knowledge of God - We encourage all adults to join our Sunday morning learning group at 9:30am in the Commons. For more information on groups for children and students as well as supplementary groups for adults, click one of the buttons below.
Small Groups: Connect with others for growth in our relationships - Small groups meet at various times and locations throughout the week. (If you're not a member yet, we ask that you first connect with us in our membership classes before pursuing a small group.)
Prayer Groups: Connect together with God in prayer for the mercy and grace we're dependent upon - Wednesdays at 6:30pm
We believe that faithfulness in these areas of life together as a church, along with your individual walk with the Lord, will result in holistic disciples who are prepared for greater opportunities to grow, to serve, and to ultimately stand before the Lord one day looking just like Jesus Christ. We hope you'll come with us and bring others along with you as we follow after Jesus together!