Update on Five Points in-person gatherings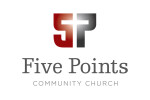 Good morning Five Points family! We always thank God, the Father of our Lord Jesus Christ, for your faith in Jesus, the love that you have for all the saints, because of the hope laid up for you in heaven. Times like these are never wanted, but they drive us deeper in Christ, make us long for eternity, and remind us to store up treasures in heaven, where nothing in all creation can destroy them.
As we continue to pray through the rapidly flowing information, the elders have suspended all Five Points in-person gatherings (Sunday's, small groups, etc.) through March 31 to comply with the 15 Days To Slow The Spread guidelines from the White House. For the next two Sunday's, you will be provided home worship service orders, which may look a little different as we continue to learn from other churches and from our first time putting one together. You will receive this Sunday's worship by Saturday evening. We will continue to ask the Lord for help in making decisions that impact the church during these days, and ask you to continue to pray for us as we do so.
President Trump declared last Sunday a National Day of Prayer. While every day for God's people is to be a day of prayer [1Thess5.17], I ask you to join me tomorrow, Friday, March 20, for a day of prayer and fasting for our church, our neighbors and the nations, and for the glorious gospel of Jesus Christ to shine brightly in these days. We'll communicate more through our Facebook page to help us join together in prayer and fasting tomorrow.
Finally brothers and sisters, now to Him who is able to do far more abundantly than all that we ask or think, according to the power at work within us, to Him be glory in the church and in Christ Jesus throughout all generations, forever and ever. Amen.
Soli Deo Gloria,
Pastor JJ on behalf of the Elders