Upcoming Trip to Kenya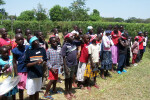 With the Africa trip being a little over a month away, I was asked to share my feelings about the trip so far. I would say I'm a little nervous about all the unknowns and things that could go wrong, but mainly I am excited. I'm excited to help lead games for all the kids from the different CarePoints and to finally meet the two boys we are sponsoring from Becca's CarePoint, Byron and Samuel. I am also looking forward to seeing how God will use our team throughout this trip. I've heard stories about the amazing ways God has provided for teams in the past and cannot wait to see how He will provide for us. Please pray for our team as we go serve in Kenya.
Partner with the team going to Kenya in April by signing up to provide supplies they hope to bring with them to the ministry sites they will be visiting. See the full list and sign up.