Track Down the Strays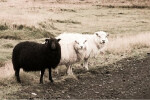 That's the title of the chapter from Jeramie Rinne's book Church Elders that our elders discussed last night. We're reading through this little book to further grow in the charge we have been given. Rinne made two points in the chapter that especially stood out to me.
The first one is that he suggests moving away from thinking of people "falling through the cracks" at church to the more biblical imagery of "straying from the flock." People don't just accidently stop engaging with the church, they stray. And Rinne says it's usually for one of four reasons: sin, busy-ness, suffering, or conflict.
The second thing that stood out is that he says tracking down the straying sheep is the responsibility of the whole church. Yes, as elders—who are under-Shepherds—we are the primary ones charged with this responsibility (1 Peter 5:1-4). But so is everyone else in the church; "Consider how to stir up one another to love and good works, not neglecting to meet together …" (Hebrews 10:24-25). If you know of someone straying, neglecting to meet with us in corporate worship, consider how you can stir up that brother or sister to love and good works.
So press in with us in this task of "tracking down the strays." Join as a covenant member so we know clearly who is part of the Five Points flock. Connect with a Shepherd Group so you can know and be known by others. Help us know what sheep may need extra shepherding care.
We're in this together. Let's help one another press on in the faith.