The Things of Earth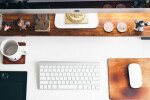 As we come out of the din of Christmas flurry and reflect on another year for the books, we should ask ourselves why God gives us so much stuff. In The Things of Earth, Joe Rigney helps us in thinking through this.
Why did [God] make a world for his own glory in Christ and then fill it to the brim with pleasures—physical pleasures, sensible pleasures, emotional pleasures, and relational pleasures? Why did God make a world full of good friends, sizzling bacon, the laughter of children, West Texas sunsets, Dr. Pepper, college football, marital love, and the warmth of wool socks? This is the tension we experience … .

I want to work with you for your joy. Your joy in your family. Your joy in your friends. Your joy in your pancakes and eggs, your steak and potatoes, your chips and your salsa. Your joy in your camping trips, workouts, and iPod playlist. Your joy in the Bible, in worship services, and in the quiet moments before you fall asleep. Your joy in your job, your hobbies, and your daily routine.

And in and through all these things, I want to work with you for your joy in the living and personal God who gave you all these things and delivered you from sin and death through the work of his Son and Holy Spirit that you might enjoy him and them, and him in them, forever.
Pursuing joy in God's good gifts is not easy, but it is necessary. Will we deny his gifts, make idols of them, or find our joy in him in them?