Rethinking Our Rhythms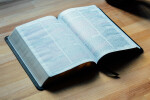 Our lives and our world underwent dramatic change the past week. We've had to reimagine our weekly rhythms, figure out how to work remotely or what to do if we no longer have a job, learn how to partner with schools for online learning, and the list goes on.
But times of change are also times of opportunity. What if our 'normal way of living' wasn't the best way of living? Could God be shaking up our old patterns in order to invite us into new paths of living with Him?
One thing we need to evaluate our lives is time, and time is something that we've been given during these last days of March! But have you found it difficult to just sit? Has it been difficult not to just go somewhere? How hard has it been to stay off devices or TV, even for an hour? Spurgeon said some people cannot endure silence because it reveals the poverty of their soul. Another pastor wrote recently: "Take away the crutches we use to hold up our fix-it, know-it, and be-everywhere personas, and the broken legs of our intimacy with God buckle." So maybe we're not just bored or stir-crazy. Maybe we're avoiding God, or at the very least, avoiding the reality of our neediness and how we often go everywhere other than God to fill up.
Yet in these days of social distancing and shutdowns, I believe God has given us a great gift. Most of us are home now or are spending much more time there, so let's use this time to not only rethink how we do our work, school, home, health, personal relationship and finances, but also take some to rethink how we live with God and His Word, as well as how we help the word of God dwell richly in those around us!
Many parents are working from home, and though that brings many challenges, it also brings an opportunity to reorient ourselves and our families or those living with us around God and His Word throughout the day. Every child is homeschooled now, so why not add Bible to the curriculum? You're going to run out of thing to binge watch, so choose a great book and read it or read it out loud to those in your home! At the end of the book of Joshua, as God's people stood on the cusp of receiving the Promised Land and a life of dwelling with God, they were faced with a choice: to fear God and serve Him only by putting away their idols, or to forsake God and serve other gods. Joshua said, "But as for me and my house, we will serve the LORD." We've been given time in these days to evaluate the kind of lives our past choices have built and whom we've been serving. And God is so gracious! He abounds in grace to help those who look to Him!
As we all set new rhythms of life during these days, here are a few excellent resources you can use to join or rejoin the long line of saints who long to say along with Joshua, "But as for me and my house, we will serve the LORD."
Helpful books to think through Healthy Rhythms of Discipleship and Orienting our lives around God and His Word:
David Murray's Reset
John Mark Comer's Ruthless Elimination of Hurry
David Mathis' Habits of Grace
Jen Wilkin's Women of the Word
Justin Earley's The Common Rule
Cultivating a Life of Prayer:
Recent sermons through the Lord's Prayer in Matthew beginning here
Teaching Children to Pray [TGC]
Never A Better Time For Family Prayer [TGC]
Paul Miller's A Praying Life
Tim Keller's Prayer
Cultivating Home Worship:
5 Reasons To Prioritize Family Worship
Family Worship 101 with Donald Whitney
Gospel Coalitions's READ THE BIBLE initiative (it's never to late to join in!)