Our Lament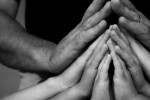 During our worship gathering yesterday, we lamented and prayed together for our country after a week of violence and fear. Let us continue to weep with those who are weeping, as we continue to pray for the advance of God's Kingdom in this world through the proclamation of the gospel and through the discipling of the nations by God's people. I pray this helps us corporately in both of these endeavors.
Weep With Those Who Weep
In light of the recent shootings in our country, both of black men and of police, I want to lead us in a time a lament. Too often, white Christians' first response is talk. Romans 12:15, however, calls us to weep with those who are weeping, and doesn't say after a few days, if those people are still weeping, you can just move on. It says weep with those who weep.
There are many in our community and in our country weeping. Today is not the day to argue points of policy, politics, or your view of certain movements. Today is a day to weep with our brothers and sisters in Christ who are weeping. Romans 12 doesn't say after a few days you can stop weeping and start critiquing. It says weep … and we will weep for as long as they weep.
A day will come when answers to a path forward are necessary. But our brothers and sisters don't need white answers today. They need us to silently weep with them in their grief, and we need to weep with them as long as they need. And when we're invited to speak, they don't need answers, but they need us to point them to the Answer: the glorious gospel of Jesus Christ! For He Himself is our peace, who has made all races one and has broken down in His flesh the dividing wall of hostility by saving us and uniting us in Him, creating one new people in place of the two, so making peace, reconciling us both to God through the cross, thereby killing the hostility.
Yes, there is a heart problem in America, but there is a heart problem in us as well! Change begins as God reveals His heart, wisdom, and will to us in His Word, and the Spirit changes us by it. The answer to hostility is not getting people to agree with you by arguing on Facebook. The answer is living, loving, and proclaiming the gospel that kills hostility! Ignorance can no longer be our excuse. People, both black and white, are being killed. Now is not the time to discuss all the reasons for why. Today we will weep with those who weep. This day we proclaim every human being, made in the image of God, matters. Black image bearers matter. White image bearers matter. Old image bearers matter. Young image bearers matter. Unborn image bearers matter.
So let us recover lament in the church. We've lost it. In our instantaneous, status-updating world, have we lost the ability to just stop for a moment, cover our mouths, and weep? Tyler St. Clair, who preached in this spot last week, experiences life differently than I do. He's a pastor just like me. But when I get pulled over, I'm praying to get out of a ticket. He prays he makes it home to his wife and kids. That should not be! When they get pulled over, they put the windows down, like they had to this past winter in the cold. He gets his ID, insurance, and registration, and puts them on the dash. Then his hands never leave the wheel. I try to get out of a ticket; he's trying to get through alive and safe.
Before we argue about why, can we just stop for a moment and realize our brother, who stood here gloriously proclaiming the glories of God in the gospel of Jesus Christ, experiences life differently than we do? Our brothers and sisters aren't asking for us to apologize for the way we have experienced life. They want to see us weep with them and pray with them that God would move and enact justice in His world. We can no longer just say, "Be warmed and filled," only to turn away to our warm and safe houses while leaving them feeling alone and fearful.
So today we join our brothers and sisters at Mack Avenue Community Church and Restore Church in Detroit, and other congregations around this country and the world in lament and prayer.
Pray for grace to weep with those who weep. Pray for grace for to hear what our brothers and sisters of other races are saying. Pray for our country to believe that Black Lives Matter, that Unborn Lives Matter, that Cops' Lives Matter, that all lives matter because all people are made in the image of God. Pray that we would begin to not only love the Gospel, but have the love of our Father for justice in His world. Pray for the orphan. Pray for the widow, both black and white. Pray for the fatherless, both black and white. Pray for those newly widowed and fatherless by this week's violence, both black and white. Pray that real and lasting change would begin to happen because the Holy Spirit settles afresh on this country through the proclamation of the gospel of Jesus Christ.
Prayer of Lament
I will read Psalm 10, and then I will give a few moments to pray silently, to weep individually for those who weep. Then I will lead us corporately in prayer.
Father, we cry out with the psalmist, "Arise, O Lord; O God lift up your hand; forget not the afflicted!" We pray that you would begin a work in us this day for our hearts to begin to reflect your heart for the good of all peoples, races, nations, and tongues. That we would long to see the killing of hostility between peoples and races because of the peace that Jesus Christ Himself is for us. That the gospel would ring out across our land today: in Dallas, in Minneapolis, in St Louis, in Detroit, in New York City, in Los Angeles, and everywhere in between.
Righteous Father, we pray that you would break the arm of the evildoer and call wickedness into account til you find none. Not because we are without sin ourselves, but because we long for Your Name and Glory to be central on earth as it is in heaven. That our land would begin to reflect Your Kingdom, where justice, love, peace, and joy are known and experienced by all.
You delight in righteousness and justice; may we delight in them as well. You are with us in our trials; may we walk with our brothers and sisters, weeping with them, rejoicing with them. May we have the grace to love them as you do. We long for a day when You are central and evil is no more. No more racism or tribalism; no more traffic stops as moments of fear, for both citizens and police officers; no more slaughter of babies; no more girls abused by the sex and pornography industry. We long for that day when you make all things right and new. When You wipe away all sadness and tears! We long for that day. And because the gospel is true, that Day is coming!
So until then, use us, use the people at Five Points to proclaim the gospel. Use us to disciple the nations. Use us to enact mercy and justice and righteousness and healing and hope! It is through the precious blood and in the name above all names, Jesus, with the tender longing and compassion He showed us, and in great anticipation of what You will do for the sake of Your great name through all these things, we pray.
Amen.