Our God Never Fails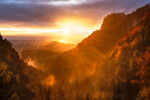 "...each dawn He does not fail..."
Zephaniah 3.5c
Since reading Zephaniah a few weeks ago, the Spirit has not let me forget this part of verse 5. Zephaniah 3 ties God's actions to His righteousness. Since God is righteous and never fails, we're commanded to wait upon the Lord as He will fulfill every promise He has made and will accomplish every single one of His purposes. No matter what it may seem like, no matter what providences I've faced or am facing today, there will never be a day when the sun rises to shine it's light upon God's failure. He causes all things to work together for the good of those who love Him, for those who are called according to His purpose. Even those things that tempt me to doubt God's goodness, love, or power will prove in the end that God never fails!
So as we turn to the last 6 weeks of 2019, we have much for which we should give thanks to God. Every morning the sun comes up gives us another thousand things to spur our praise of our Father! I invite you to count up all the ways God has not failed you this year, not leaving off even the smallest thing, and I think you'll run out of time before you run out of reasons to be grateful.
Five Points, may our Father continue to pour out His amazing grace and abundant goodness upon us as we come to the close of this year with our eyes expectantly waiting upon God to more than we can ask or imagine in the next!
Soli Deo Glorioa,
JJ