Memorize Philippians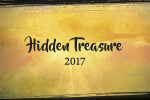 We're a few weeks into 2017 and hopefully you're still going strong in your Bible reading plan. (If you've fallen off the wagon, there's grace. Pick up where you left off.) But we're kicking off our Bible memory plan for the year this Sunday.
In previous years, our "Hidden Treasure" Bible memory plans have been verses from throughout the Bible. And last year we added missionaries to each week as an encouragement and reminder to pray for them.
This year, we are doing something different as we will work to commit to memory the entire letter to the Philippians. This coincides with the sermon series we are presently in walking through the letter. We've also changed the format of the booklet to be like a table-top tent so you can have it set out on your kitchen counter, desk, nightstand or wherever you will see it daily and be reminded to memorize the Word and pray for missionaries.
Our hope is that this will be a tool for you to pursue your joy in Christ as you commit his Word to memory and pray for his global purposes. Here is a PDF of the booklet and print copies will be available Sunday.
May we receive grace and peace as we hide the treasure of God's Word in our hearts.