Members' Meeting Recap (5/18)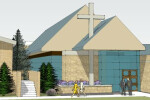 At our members' meeting last night, we covered a number of topics. We received the following fifteen people into covenant membership:
Mark & Janet Roth
Eugene & Darcy Mazza
Julia Morin
Allison Cowan
Mitchell & Carrie Nees
Tim Bryson
Eric Goble
Aldo & Alejandra Castro
Zsophie Held
Jimmy Smith
Mason Williamson
We also unanimously approved Jeff Ingalsbe to be appointed to the office of deacon. He will be overseeing a new effort to increase safety and security at Five Points known as the Life & Safety Ministry.
Mike Martoia and Ken Whitley shared briefly about church finances from the first quarter of year. Our giving was a little under our expenses for the quarter, but giving has been increasing steadily over the last year.

Mike and Pastor JJ shared about the Planting Joy vision and plans to launch a new capital campaign this Fall to finish raising the approximately $1.5 million needed to complete Phase 1. If plans continue to move along as steadily as they are, construction could begin Spring 2017 (and would be completed by the end of the year). They called on us to pray about how we could sacrificially give out of faith in our great God towards seeing this launching point for ministry and missions established for the benefit of generations after us.
Last, Pastor JJ lead us in partaking of the Lord's Supper, pointing us to consider the example of steadfast, immovable faith in the sovereign God that Paul displayed in Acts 27:35. Paul had received a divine promise, and though deliverance from the storm had not yet come, he gave thanks to God. May we be a people who have such confidence in the promises of God that we too can readily pause and give thanks to God no matter what trials, tribulation, or suffering he brings our way.