Maturing in Christ Together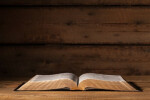 With Labor Day in the rearview mirror and students back to school, our attention turns to the beginning of another ministry year. Our desire at Five Points Community Church is to proclaim Jesus Christ, teaching everyone with all wisdom so that, as the apostle Paul writes in Colossians 1.28, "we may present everyone mature in Christ." We mature in Christ as He becomes our great treasure, the focus of our love and worship, and as His glory among all the peoples of the earth becomes the reason for everything we say and do. Towards that aim of presenting everyone at Five Points mature in Christ, we have planned various opportunities for all ages to gather together and hear Christ proclaimed. Along with a full range of classes for children and students every Sunday and Wednesday, we invite you to sit under the proclamation of the Word in the following new offerings:
Sunday Bible Study Hour Classes (Sundays 9:30am):

Old Testament Overview
How to Study the Bible
Women's Study of I, II, & III John

Wednesday Evenings (7pm):

Growing in Christ
Our men's and women's monthly gatherings, Bravehearts & Tapestry, on the last Wednesday of each month

Bible Studies:

Men's Ephesians Study (Tuesdays starting Sept. 4 at 6am)
Women's Jude & Philemon Study (1st & 3rd Fridays starting in October at 11 am)
Women's Gospel Christianity Study (Tuesdays starting Sept. 11 at the Whitley home at 7pm)
For more information on any of the above, please visit our website. We pray the Lord will use these times gathered under the Word to change us more and more into the image of Christ, our glorious Savior!
Soli Deo Gloria,
Pastor JJ