Helping Others Change Seminar Resources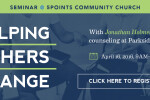 This past Saturday we had the pleasure of hosting Jonathan Holmes, pastor for counseling at Parkside Church, for a seminar on biblical counseling. Jonathan spent the day teaching through the process and dynamics of helping others pursue biblical change.
The audio from all six sessions are now available. Also available is the notes packet (PDF) Jonathan made available and his presentation slides (PPT).