Good Friday Fasting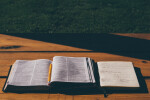 Join us in setting aside Friday of this week for prayer and fasting as we prepare to reflect together on the death of Jesus on behalf of sinners. We will break the fast together at the Good Friday service (7pm) by partaking of the Lord's Table.
If you are unable to fast from food for the day, consider fasting from something else (social media, eating out, Netflix, etc.) that would be a noticeable break from your regular habits and daily rhythms.
Whenever you have a pang of hunger or an impulse to turn to the thing you are fasting from, let that serve as a reminder to pray. Use this list of prayer requests to give direction to your prayers.