Egocentrism: Not Just for Children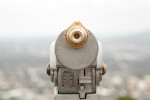 My very good friend and I often approach discussions from vastly different starting points. I've known her for more than 15 years and we are true friends and sisters in Christ, yet I am still surprised when I realize during a conversation that I've completely forgotten (again) to consider an issue from her historical perspective. My lapse in thoughtfulness has shown itself in various situations, and the common thread is that I have assumed I know the "right" approach to an issue, but have come to realize that it isn't as clear cut as I first thought.
Piaget, a pioneer in developmental psychology, identified a normal phase of childhood development labelled "egocentrism." It is the stage during which a child believes that when he covers his own eyes, not only can he not see you, but you can also no longer see him. At that phase, a child is not aware that any other perspectives exist other than his own. As adults, we have all presumably outgrown that phase of childhood, yet based on my own experiences, I suspect we carry on with a bit of that egocentric thinking. Each of us has a unique history. We have all had people who raised us, taught us, and guided us. Whether those lessons were helpful or harmful, or whether that guidance was Godly or not, we learned from those experiences, and we each presently have a perspective that is likely very different from others, even in situations when our backgrounds happen to be pretty similar.
It is a good thing to be aware of this about ourselves and others in order for relationships to flourish, but what is the ultimate conclusion to draw from this? Is it that we should each pursue our own truths and they are all equally valid? Should we disengage from and avoid people who don't see things exactly like we do? Our culture would tell us yes, but the Bible has a better answer.
First, the Bible teaches us that we should learn from, balance and correct each other. "Iron sharpens iron, and one man sharpens another." Proverbs 27:17 Even when we think that we are fully aware of people's various histories, engaging with others can quickly teach us that we have more to learn. Throughout the years I have known her, my friend has helped to sharpen me by showing me a different perspective that I had not considered. Listening to and understanding her experiences has helped me to see her perspective and encouraged me to be more patient and compassionate when engaging with others. It serves to balance me when I realize that we each approach the same topic from a different historical point of view, though Biblical Truth always remains constant. We can never assume that someone else needs to hear the same thing that we do, in fact, it's likely that she doesn't. While I may need Scripture to balance me in one direction, someone else may need the Bible to balance her in the completely opposite way, which is essential to understand, especially when trying to encourage a friend in need. To use a simplified sports analogy, a baseball coach will not tell the player who is striking out due to swinging at every pitch to swing more. But to the player who isn't hitting anything because he never swings, the coach will say to swing away! The goal of both players is to hit the ball, but the coaching needed depends on the player's tendencies. Similarly, the goal of the Biblical balancing act is the same for all of us: to become more and more like Christ. Interacting with my friend in a relationship where we don't always initially see eye-to-eye is one of the means God has used to shape me. He has also blessed our friendship with deep love and commitment to each other.
Second, we have to realize that our perspectives are marred by sin to differing degrees, depending on who we learned from and how Truth-filled the lessons were. There are many diverse histories represented by the people we know, which makes life interesting, beautiful and glorifies God, as He is the Author of diversity in all of creation. But because we are sinners living within families of sinners, we all have areas of blindness and confusion as we relate to God and His Word. It is imperative that we know that there is actual Truth that exists, that it is something that we, as human beings can know as God gave it, and that it can be found exclusively in the Word of God. We must pursue that Truth in Scripture. We must submit ourselves to and let the Word of God retrain our minds to line up with the mind of God. Consider 2 Corinthians 3:17-18: "Now the Lord is the Spirit, and where the Spirit of the Lord is, there is freedom. And we all, with unveiled face, beholding the glory of the Lord, are being transformed into the same image from one degree of glory to another. For this comes from the Lord who is the Spirit." We, as Christians, are being transformed into the image of Christ as we behold His glory, which has been revealed primarily in the Bible. Notice the freedom that is proclaimed in this process. As opposed to what our culture tells us, conformity to Scripture and then the image of Christ makes us free, not constricted. As we look to Christ and are reshaped into His image, we gain freedom from guilt, shame, and the voices of this world that tell us how to act, think and feel. We have an audience of One, who is our Father in heaven and who is infinitely pleased with His Son. And because of Christ and His work on our behalf, our Father is also now pleased with us. This allows us to live free from many things, including the need for approval from others (which changes like the winds) as well as efforts to control how others think and live. Also, this conformity does not deny who we are, as if we have lost something of ourselves. Anything worthwhile or good about us was first given to us by our Creator, who is the author and originator of it. Far from taking anything away from us, conformity to the image of Christ begins the process of beautification in us that will be complete when we see Him face to face.
This pursuit of Truth in Scripture will be a lifelong activity. But hopefully as we are corrected and molded by it, we will be taking these Truths with us into our relationships, remembering that those we come into contact with approach life from different perspectives than we do. This means that we need to keep our "absolute" perspectives limited to the absolutes that God has clearly established in His Word, remembering that the fruit of the Spirit should always be at the forefront of our minds as we boldly speak. Galatians 5:22-23 "But the fruit of the Spirit is love, joy, peace, patience, kindness, goodness, self-control; against such things there is no law." Nevertheless, the beauty of Scripture is that ALL of it is profitable for ALL of us, no matter what our histories are, and each Bible passage has only one intended interpretation, though many possible applications. 2 Timothy 3:16-17 "All Scripture is breathed out by God and profitable for teaching, for reproof, for correction, and for training in righteousness, that the man of God may be complete, equipped for every good work." We should pursue the Truth found in God's Word alongside our Christian sisters, moving past our adult-style egocentrism, seeking to see through another's eyes, sharpening each other as we go, and growing together in maturity in Christ. As we approach conversations with each other, let's always start with God-centeredness, being fully aware of His holiness and command to love Him with all of our hearts, minds and souls, and to love our neighbor as ourselves so that we will have ears that hear Him and hearts that are wanting to be conformed to His image. It is a wonderfully unique blessing to be able to pursue, walk in, and be retrained together in Truth as sisters in Christ and to worship the One who created us, loved us, and made a Way for us to have true fellowship with each other now and with Him forever.
*If you have questions about the authority or inerrancy of scripture, or would like to know more about how to understand the Bible, see an elder or women's ministry leader.