COVID-19 Guidance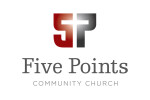 Updates (Wednesday, May 13, 2020)
Watch this space for updates relevant to church gatherings and worship services.
The confirmed cases of coronavirus (COVID-19) and resulting deaths in our state continue to rise. For up-to-date information, visit the Michigan Department of Health and Human Services coronavirus webpage.
Out of care for the Five Points Community Church family, and to honor the government's guidelines to help limit the spread of COVID-19 in Michigan, Five Points Community Church is suspending all in-person church gatherings (corporate worship, small groups, Bible studies, etc.) through Thursday, May 28, 2020.
The church building has been temporarily closed, but the staff is working remotely and available during normal office hours (9am - 4pm, Monday to Thursday). You can call the church office to speak with a staff member or email us at info@5pointscc.org
We are closely monitoring all information and guidance from officials with the MDHHS and the Centers for Disease Control and Prevention (CDC). We will prayerfully determine on a day-to-day basis whether further steps are needed and update accordingly.
Take Precautions
When we resume any in-person gatherings, we caution you to practice the standard, flu-season safety precautions that we are already familiar with, including:
Cough etiquette and hygiene

Thorough and regular hand washing (particularly after touching your face)

Social distancing (limiting physical contact with others)
Pastoral Care
Our elder, deacon, deaconess, and staff teams are beginning to develop plans for pastoral care for our people in this season, especially for those in our congregation who are at greatest risk.
For those in need of help, please call or email the church office.
For Small Groups and Bible studies, we encourage you to explore other ways to meet via phone or video calls to continue ministering to, encouraging, and praying for one another.
We care deeply for those who are already affected by this and are praying for God's leading and wisdom as we navigate the next few weeks.
Stay Informed
All future communication will continue to be distributed through church-wide email. The best source of information on COVID-19 is the CDC's website.
Thank you for helping us keep Five Points Community Church a safe place to glorify God through the Spirit by pursuing joy in Christ alone that our neighbors and the nations worship him with us now and forever.
And Remember, We are the Church
1) Point people to our hope found in Jesus.
2) Love our neighbors as God's loved us, and so shine before others, so that they may see our good works and give glory to our Father who is in heaven.
3) Be wise in our conduct and honor those in authority.