Covenant With a Cost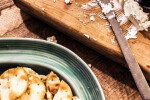 Today, 1,982 years ago, Jesus instituted an act of worship and fellowship for his Church to carry out. Luke records:
And when the hour came, he reclined at table, and the apostles with him. And he said to them, "I have earnestly desired to eat this Passover with you before I suffer. For I tell you I will not eat it until it is fulfilled in the kingdom of God." And he took a cup, and when he had given thanks he said, "Take this, and divide it among yourselves. For I tell you that from now on I will not drink of the fruit of the vine until the kingdom of God comes." And he took bread, and when he had given thanks, he broke it and gave it to them, saying, "This is my body, which is given for you. Do this in remembrance of me." And likewise the cup after they had eaten, saying, "This cup that is poured out for you is the new covenant in my blood." (Luke 22:14-20)
Tomorrow night, we will come together to dine at the Lord's table and stand in awe of the covenant he has made through his own body and blood. As you think about it today and tomorrow, consider two components of this aspect of our worship.
First, consider that this is a symbol of a covenant God has made. Reflect on God's covenants recorded for us throughout Scripture. Has the Lord ever not upheld his commitments to the covenants? Has he ever turned from what he has promised to do? No. So rest confidently that he most certainly will bring about that which he has covenanted to do in Christ.
Second, consider the cost of this covenant. This covenant was established through the pouring out Jesus' own blood. The eternal Son of God paid the unimaginable price to establish a covenant for the benefit of his own people, a covenant that absolves them of their due penalty for sin and bestows on them Christ's own righteousness. It indeed is a costly covenant.
These aren't new observations, but treasure rarely is.
How does God's covenant faithfulness and costly establishment of a new covenant fall on you afresh after so many years since it was initiated?