Coming Soon: Five Points Online Community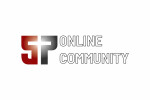 "...we are to grow up in every way into him who is the head, into Christ, from whom the whole body, joined and held together by every joint with which it is equipped, when each part is working properly, makes the body grow so that it builds itself up in love."
Ephesians 4:15-16
One of the multi-faceted and beautiful realities of God's word is its clarity. That is, in his word God has spoken so as to be understood. Now granted, because of God's transcendence, there are some things in Scripture our finite minds will never fully grasp on this side of heaven. But, of those things needed so that we may experience God's good design for us, we can be sure he won't leave us in the dark. After all, God designs with his glory in mind and he will get his glory!
And so when it comes to his design for us as his people--the church, God could not be any clearer when he says that his design is dependent on "every joint with which it is equipped, when every part is working properly." God means to tell us that church is not primarily about me and what I'll get out of it, but rather, church is primarily about the other members and how I can encourage and serve them. When God graciously presses this truth into us, we begin not only to see, but also to experience the goodness of his design.
Out of a desire to help our church family in living out God's good design for his people, our church staff has been hard at work preparing a brand new online community. Our hope and prayer is that the Lord will, by the power of his Spirit, use this new resource as one way to enable each of us to work properly so that His body here will grow, building itself up in love. While we are still several weeks away from debuting the online community, here is a quick preview of a few of its features:
A central hub for staying informed about what's happening at Five Points, including personalized calendars and notices of needs in our church family
Simplified schedules, notifications, and reminders for those serving, alongside the capability to block out dates, swap scheduled times with another volunteer, and find a replacement if you will be unable to serve.
Easy customization of privacy settings for personal information (phone numbers, birthdays, etc.) and communication preferences (how often you receive email and from what ministries)
A robust phone app that will help facilitate communication between individuals, lay leadership, and church staff. The app will also integrate the other features mentioned above.
And more!
As we move closer to the launch of our online community, you will see a few changes in some of the ways you receive communications from the church. First and most important, many of the emails we send will now come from an address ending in "@ccbchurch.com" and look like the one below. You'll also see a Church Community Builder logo at the bottom. This is the name of the platform on which our online community is built.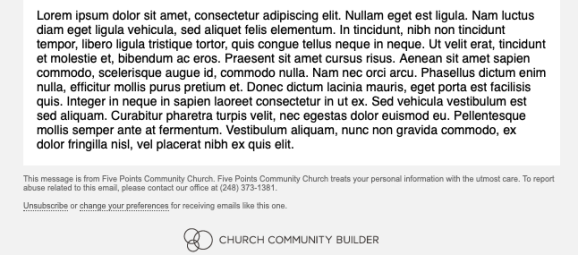 Second, you may have already noticed that our website calendar has already been running on the new platform for a few weeks. Finally, the online giving page on our website has a new look. These three changes are slight growing pains as we move forward into what God has for us in the future.
Of the many things 2020 has taught us, one is certainly the vital importance of remaining connected to each other, and not just on Sundays and Wednesdays. May God continue to make our church family truly one in Christ and draw us closer to himself and to each other as we live as his new people to the praise of his great name.
To him be glory in the church and in Christ Jesus throughout all generations, forever and ever.
Pastor Mike