An Update Regarding COVID-19 Protocols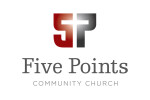 Dear Five Points family,
Our great God and Savior loves His glory and loves you, and His purposes never fail! This glorious truth brings infinite joy, delight, and rest for those who find refuge in God by it. Our hope is God, and that is no less true in these days of COVID-19, even with all the changes it brought this past year.
Yesterday, Michigan updated its guidance for COVID protocols, so we wanted to briefly update you on the path forward for our corporate gatherings at Five Points. Our decisions have been formed by our three priorities of gospel unity, humility, and love, as well as our four values of fearing God [1Pet2.13-17], honoring and obeying the leaders God has sovereignly placed over us [1Pet2.13-17, Rom13.1ff], pursuing to live at peace with our neighbors as far as we're able [Rom12.18], and protecting the vulnerable as far as we're able [Ex20.13].
In light of the trajectory of current protocols and other related data, and in accordance with our desire to shepherd wisely, we have decided to no longer require masks to be worn inside the premises during worship or other activities. For those who still need or desire to wear a mask, we of course support and encourage you in this, and the Commons will be available during Sunday morning worship for those who need to practice social distancing and masks for various reasons. The elder council will continue to work with its COVID task force to monitor the matter and make decisions accordingly. We ask for your continued prayer and support in this.
Brothers and sisters, may God grant us the grace to continue maintaining the unity of the Spirit in the bond of peace. Let us not be distracted by anything related to COVID as we gather this Sunday, but let us stir up one another to love and encourage one another with the good news of the gospel! We'll soon come around the table for the Lord's Supper, not because we have everything in common, but because our Savior has gathered us as His people by His blood in spite of our many differences. So let us anticipate the joy of worshiping together this Sunday the Lamb who was slain to ransom a people for God from every tribe, tongue, and nation by His blood, for our joy and the glory of His name!
The Elder Council