Advent Resources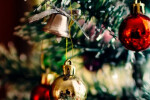 Advent is upon us. This time of year I'm always looking for good readings to guide my thoughts and heart Godward, to the baby Jesus and all that he encompasses. Here is a list of a few resources that might be a help to you:
Desiring God – Their "Advent is for Adoring Jesus" can be found on their website, Instagram and Facebook page. They have two eBooks you can download or purchase (I downloaded both on my Kindle). They are Good News of Great Joy and The Dawning of Indestructible Joy. They also have other listings at the bottom of the page.
Village Church – They have an eBook you can read with your family. They also have an Advent playlist on Spotify to enjoy and use for family worship, as well as an Advent Pinterest board of activities to do with your family.
Parkside Church – They have a list of recommended readings including Come, Thou Long-Expected Jesus: Experiencing the Peace and Promise of Christmas edited by Nancy Guthrie. Some of you may have this good read on your shelf at home. We gave this book out two years ago. Alistair Begg also has a new book out this year, Christmas Playlist: Four Songs that Bring You to the Heart of Christmas, is the book we gave out a few weeks ago to read and then pass along to a neighbor, friend, or co-worker.
The Gospel Coalition has a link to LifeWay's Advent devotional "The Coming King." It is a 14-day devotional in Isaiah with the intent of starting on December 12 and reading through Christmas day. They are free when you sign up to review four free sessions of "Bible Studies for Life."
Hopefully, this short list will be a help to you and your loved ones as we enter into this season of celebration of the birth of our Savior, Jesus Christ.