The LORD Has Done Great Things for Us!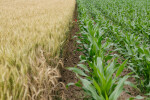 "The LORD has done great things for us; we are glad."
Psalm 126:3
I'm always amazed when I reflect on my day or week or month, how many amazingly gracious and wonderful things the Lord did for me. As we approach the end of 2019 considering the past twelve months, how can we do anything but join with the psalmist in exclaiming, "The LORD has done great things for us; we are glad." When God's people look back at the love, provision, protection, mercy, and sustaining grace that God has shown them, they are overjoyed with gladness.
As we turn our eyes to 2020, I ask of you two things. First, please join us in praying for the LORD to continue to pour out His abundant grace and peace upon Five Points, and that as much as we rejoiced in all that He did in 2019, that He would cause us to rejoice all the more in 2020 by continuing to do marvelous things for the glory of His name, both in us and through us. Secondly, I ask you to partner with us financially in the gospel ministry at Five Points with a year end gift. We praise God that He has always provided for the needs of our ministry and has never left us in a place of need or lack. We're praying 2019 will be the same, and if our giving does exceed expenses for 2019, any surplus will go to Phase 2 of Planting Joy Building Project and gospel initiatives. You can give online here, at the giving kiosk in the church lobby, or during the worship services on December 22 and 29.
Five Points, the LORD has done great things for us, the greatest of all was sending His Son, born of a virgin, in the fullness of time, to be our Savior. As you spend the remaining days of the year rejoicing in Jesus putting death's dark shadows to flight, may we be overjoyed in gladness at the great love and mercy of our God.
SDG,
JJ