Sorrow to Joy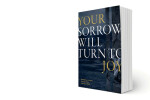 Next week is a special week. Yes, no week is more or less holy than another, but next week presents the opportunity to join with Christians the world over in giving particular focus to why we are not to be pitied most among men (cf. 1 Corinthians 15:19).
As we anticipate giving special focus next week to the death of the incarnate Son of God at the Good Friday service (7pm) and coming together in joyful celebration at his glorioius resurrection on Easter Sunday (continental breakfast from 9-10am and service at 10:45am), consider joining us in setting aside other time in the week for special reflection.
We're encouraging you to join us in reading through a new Holy Week devotional published by Desiring God called Your Sorrow Will Turn to Joy. Here's how they introduce this morning-evening devotional:
In the chaos of our increasingly fast-paced and hectic society, the annual coming of Holy Week each spring — March 20–27 this year — is a reminder to pause and ponder, to carefully mark each day, and not let this greatest of all weeks fly like every other.
It is a chance to walk with the church throughout the world and throughout time as she accompanies her Bridegroom through the eight most important days in the history of the world. And it is an opportunity to focus our minds on, and seek to intensify our affections for, the highest and most timeless realities in the universe.
We have assembled a team of eleven pastors and scholars to walk us through Holy Week as we walk together with our Lord. This collection of short meditations includes readings for each morning and evening from Palm Sunday to the triumph of Easter.
The book is available for free in a few different formats (PDF, EPUB, MOBI) at Desiring God's site. Read through this together with us as we pray for God's kingdom to come and his will to be done on earth as it is in heaven.