Postponing Tonight's Activities and A Call to Prayer for Wisdom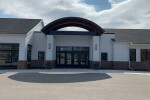 Five Points family~

Last night, our governor declared a state of emergency in Michigan due to the coronavirus. With presumptive cases now in Oakland County; our proximity to Oakland University, Fiat-Chrysler, and other large, international organizations; and following the new federal guidelines for faith-based organizations with minimal cases in our area (which is the lowest category above 'None'), we are postponing our Wednesday evening meal and gathering tonight in an effort to join community efforts to help contain the spread of the virus by "implementing social distancing measures and reduce activities". Even before yesterday's announcement, we had undertaken extra steps to disinfect the building, stock the building with necessary hygiene supplies, and provide extra hand sanitizing stations. We ask you to pray tonight for the gospel to shine forth in a time when anxiety and worry are high, and we also ask you to pray for the elders as we meet tonight to pray and seek God's guidance for the days ahead.
As of this morning, we still plan to gather as a body to worship on Sunday, but will continue to assess the information we receive from the county and state in the coming days. We encourage small groups, prayer groups, and Bible studies to continue to meet together during this time while following the guidelines found here.
Finally, we urge you to ground yourself in Scripture. Psalm 46 begins this way: God is our refuge and strength, a very present help in trouble. Therefore we will not fear though the earth gives way, though the mountains be moved into the heart of the sea, though its waters roar and foam, though the mountains tremble at its swelling... God is in the midst of her; she shall not be moved; God will help her when morning dawns. The nations rage, the kingdoms totter; he utters his voice, the earth melts. The LORD of hosts is with us; the God of Jacob is our fortress."
Those words are always true, even when it's not mountains being moved, but rather microscopic agents moving through communities. God is with us and those who trust in Him will not be moved, even if they get sick. So let us encourage one another to fix our eyes on our sovereign God, be immovable in our hope in Him, and ask for the grace to be ready to give an account to our neighbors and the nations for the hope within us.
Soli Deo Gloria,
Pastor JJ on behalf of the elder council