Planting the Joy of Deep-Rooted Gratefulness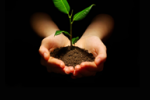 The following is a post by one of our elders, summarizing the content from this past Sunday's Adult Bible Study Hour. In the class, we are going through eight different aspects of our Planting Joy vision. Consider joining us this Sunday at 9:30am in the sanctuary.
True gratefulness has to be one of the most well known and least known Christian attributes. Here's what I mean: Everyone knows you should be thankful, yet few understand or experience the depth of joy that is connected to and comes with true thankfulness. Perhaps we've forgotten, in part, how thankfulness permeates all of Scripture.
Thankfulness is...
- a theme of our singing (1 Chronicles 16:7)
- our first word of praise to the Lord (1 Chronicles 16:8)
- offered because of the Lord's steadfast love (1 Chronicles 16:34)
- one of the purposes to which we are saved (1 Chronicles 16:35)
- a specific part of our worship (1 Chronicles 16:41)
- a part of recognizing God's goodness and steadfast love (2 Chronicles 7:3)
- offered to the Lord due to his righteousness (Psalm 7:17)
- a part of remembering God's wonderful deeds (Psalm 9:1)
- to be done aloud (Psalm 26:7)
- linked to a joyful heart and the natural result of trusting in God (Psalm 28:7)
- directed to the holy name of God (Psalm 30:4)
- to be offered through all eternity (Psalm 30:12)
- accomplished through music (Psalm 33:2)
- another way of saying "Christian boasting" (Psalm 44:8)
- glorifying to God (Psalm 50:23)
- good (Psalm 54:6)
- to be offered publicly to God as a testimony to the people (Psalm 57:9)
- a way to magnify the name of God (Psalm 69:30)
- to be done with your whole heart (Psalm 86:12)
- the attitude we should have when we come to church to worship (Psalm 95:2)
- linked to rejoicing (Psalm 97:12)
- part of personally praising your God (Psalm 118:28)
- offered in response to hearing the Word of God (Psalm 138:4)
- what righteous people do (Psalm 140:13)
- the attitude of the soul that's been set free (Psalm 142:7)
- the natural response of a soul that's been mercied (Isaiah 12:1)
- the verbal outpouring of joy and gladness for the Lord's comfort (Isaiah 51:3)
- given back to God when he grants wisdom and might (Daniel 2:23)
- is connected to disciplined prayer (Daniel 6:10)
- what Christ offered to God right before a miracle (Matthew 15:36)
- what Christ offered to God at the Last Supper (Matthew 26:27)
- the essence of a public prayer to God before a meal (Acts 27:35)
- showing honor to God (Romans 1:21)
If you find yourself shallow in thankfulness, meditate on these Scriptures and ask the Holy Spirit to illuminate your mind and grow your heart of faith. Ask him to help you love Christ and the gospel again. The same Spirit who regenerated your heart can fill you up and cause an outpouring of deep-rooted joy and thankfulness.