Planting Joy: Our Method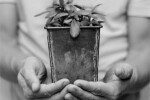 Glorifying God in the impossible.
We believe that all we have and all we need comes from God. He promises to supply all our needs according to his riches in Christ Jesus. Throughout the Bible, we see evidence that God's ways are higher than our ways, and that he not only provides what we need to obey his will, but he does so in some very surprising ways.
In order to best steward the resources God provides, we aim to move forward with a debt-free plan to finance the building and furnishing of this structure and site plan. Yet we are always eager to remain in full submission to the Holy Spirit; if at some future date, incurring short-term debt becomes a wise way of achieving his will with prudence, we will consider it. However, we do not plan to take on debt at this time confidently trusting that God will provide.
Construction on Phase 1 will begin when the full amount of the projected cost has been pledged and fifty percent has been received. That means we are asking God for $3.7 million to carry out Phase 1 and will begin construction after $1.85 million has been received and the remainder pledged.
Planting Joy is a key outworking of our vision. And visions are costly. They require commitments of time, money, and effort. But visions like this one are rewarding beyond description; they excite the very best in us to pursue God's very best for us. They awaken our hearts to his heart for his own glory and they beckon us to joyfully enter his cause of love.
Would you join us in praying that we will be a people who faithfully plant the joy of faith in Jesus Christ? We invite you to take part in helping to plant a facility where affections can grow for God's glory on the earth. Ask God how he would have you participate in this vision of "Planting Joy" and give towards this vision out of faith in the God of the impossible that our neighbors and the nations might know that he is our treasure.