Pastoral Candidate: Mike Sherf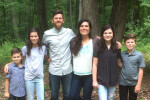 "So I exhort the elders among you, as a fellow elder and a witness of the sufferings of Christ, as well as a partaker in the glory that is going to be revealed: shepherd the flock of God that is among you, exercising oversight, not under compulsion, but willingly, as God would have you; not for shameful gain, but eagerly; not domineering over those in your charge, but being examples to the flock."
1 Peter 5:1–3

Dear Five Points family,

As you know, we have spent the last several months actively seeking an associate pastor candidate to recommend to you to join us in shepherding the flock of God at Five Points. We have been praying the Lord would bring us the right man and have asked for you to pray as well. On Sunday, July 21st, we announced the candidacy of Mike Sherf, a man with a deep love for the Lord, a heart that yearns to see others grow in Christlikeness, and extensive ministry experience. The role we envision for him is Associate Pastor for Adult Discipleship and we invite you to prayerfully join us in determining whether the Lord is calling Mike to Five Points.
The Associate Pastor for Adult Discipleship role would include oversight for small groups (training, deployment, administration), Sunday morning adult education, and Wednesday evening ministry constructs. Mike's experience, gifts, and passion fit well with these ministry needs. Based on the testimony of Mike's references and our time spent getting to know Mike, his wife Nicole, and their children, we are confident he will complement the current elders in our pursuit of presenting every member mature in Christ by equipping our church family to make disciples.
Over the next few weeks, Mike will teach, preach, and be available for interaction with our congregation. We have laid out the following tentative timeline for his candidating process:
Sunday, August 4
- During BSH: introduction, process review, Mike to teach
- Sherfs available after service in Commons
Friday, August 9
- 6:30-8:30 pm: congregational informal gathering and ice cream sundae bar with the Sherfs in the Commons
Sunday, August 11
- During BSH: moderated Q&A with Mike
- Mike to preach
- Sherfs available after the service in the Commons
Sunday, August 18
- Elders available in the Commons for congregational feedback after the service
Sunday, August 25
- Members to vote after morning worship service
We ask you to join us in fervent prayer in the coming weeks as we seek the Lord's will and wisdom in this matter. It is no small matter to call a pastor to join us in shepherding the blood-bought flock of God under our Chief Shepherd, Jesus, who loved us and gave Himself for us. If you have any questions, we encourage you to reach out to any of the elders.
Soli Deo Gloria,
The Council of Elders
Click here to see Mike's biography and resumé.