Blinded by our Castle Walls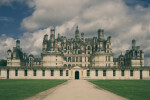 After 31 days in Asia I climbed into my ridiculously comfortable bed, closed my eyes and immediately started to cry. My mind flashed back to images of the little boy curled up on the pavement sleeping with garbage piled around him, the sex menus on the streets of Bangkok being shoved in my face, the girl covered in bandages who had been doused with gasoline and lit on fire, and the six-year-old with roses unaware that she was selling herself to whomever was interested in her body for the night.
All of the experiences from the last month came crashing down on me. It was a crude reminder of the questions I had been struggling with while gone and the burden my heart had developed not for Asia, but for you, the American Church.
You might wonder why someone would need to travel 17 hours around the globe to experience a different culture on a different continent, but the perspective I gained trumps any doubts that had threatened my decision to go on this trip. I worked with several different anti-trafficking organizations in Thailand and Cambodia and was completely blown away by the people I met and the amazing picture of community they represented.
These groups not only prevent and rescue girls from being sold into sex slavery, but they also educate, provide medical assistance, child care and employment to the community in which they live. They preach the gospel both with their words and with their lives. They reach out to those around them, they love with no conditions or pre-qualifications, and they are real and authentic with one another. This is life for them; it's not just a weekly outreach or a special service project. It's a long-term commitment to share Christ and themselves with those around them who are in need of a Savior.
I couldn't help but compare and contrast. While wandering around in Asia my mind was constantly on Detroit, drawing similarities between the two places and the needs that I know exist in our own cities. Should our churches look any different than what I experienced in Asia? If the church is global and human souls are identical at their core then we have the exact same mission right here. We have been born and raised as royalty in America. We have the ability to travel, to live comfortably and to enjoy our lives, but we are often blinded by the walls of our castle to what lies right outside the gates of our safe fortress.
We are aware that there are children starving in Africa and Christians being tortured by ISIS in the Middle East. We read blogs and support missionaries far away and nod our heads in agreement and encouragement with what they share during mission's week. Yet we ourselves live in the richest county in Michigan surrounded by some of the roughest cities in America. Whether we like it or not, our country is looked upon from around the world as a beacon of safety, wealth, and convenience. Are those the words that should describe followers of Christ? Is that the label the American church should be painted with?
I wrestle with these questions:
Are we being authentic and vulnerable with one another about our struggles and sins and deep hurts?
Do we love the people around us or are we just talking about it?
Are we staring at our screens posting quotes about grace, or are we out on the streets proving that it's real?
Do we know what's going on outside the four walls of our church or do we honestly even care?
Have we surrendered our homes, possessions and finances and our lives, holding nothing back and truly listening for what God is calling us to do with our days?
If the gospel is truly powerful and our hearts have been transformed, are we living in a radical way that points to the cross?
Here's my plea for action:
Growth cannot happen through monotony. If everything is familiar and normal, won't you be as well? How will you change if nothing around you does? I want to see revival in myself and in the American church.
If not now, then when?
If not us, then who?
The ones who are moved to action will change the world.